A storm system that's bringing heavy snow and freezing rain across a large section of the South is leaving thousands without power Sunday as wintry precipitation blasts the region.
Over 190,000 customers in North Carolina are without power as of 11:30 a.m. ET Sunday as snow and freezing precipitation continue to fall, according to North Carolina Emergency Management.
"North Carolina is in the cold, icy grip of a mammoth winter storm," North Carolina Gov. Roy Cooper said at a news conference. "Enjoy the beauty but respect the danger. Don't be fooled. This storm is treacherous."
The majority of the power outages are in North Carolina, where the highest amounts of snowfall are expected to fall. The National Weather Service said that more than a foot of snow is possible from North Carolina into south-central Virginia.
"Travel will be severely affected across much of these areas, and some power outages are likely," the NWS said in its advisory.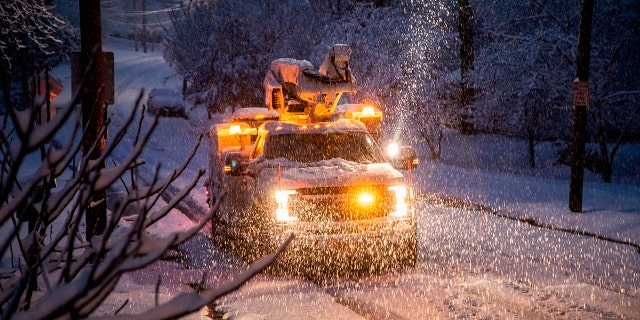 North Carolina Emergency Management said that the threat of ice and freezing rain increased Sunday, especially along the Interstate 85 corridor. There is now a "high probability" of widespread power outages as icy conditions develop across the central part of the state.
#ncwx updates:
* Additional ❄️ amounts expected: 6-12" in the Northern Mountains & NW Piedmont; 4-8" in the Triad; 1-4" in Southern Mountains & Triangle.
* The threat of ice/freezing rain has increased, along the I-85 corridor.
* High probability of widespread power outages. pic.twitter.com/poDNKnrzVU

— NC Emergency Managem (@NCEmergency) December 9, 2018
In the western part of North Carolina, officials told  Carolina that some areas had been 14 to 15 inches of snow, creating "treacherous" travel and leaving crews unable to get to some areas.
Governors and local officials in several states declared emergencies ahead of the storm crossing several Southern states and poised to hit particularly hard in portions of North Carolina and Virginia.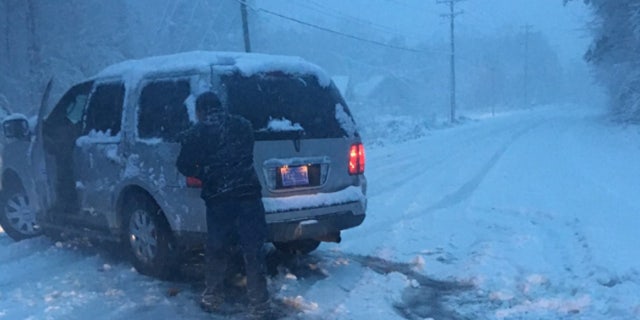 Cooper said most of the power outages are in western North Carolina, the Triangle area and in Mecklenburg County. State troopers have responded to more than 500 crashes so far since the storm began.
One tractor trailer ran off a road and into a river, Cooper said.
"Stay put if you can," Cooper said. "Wrap a few presents, decorate the tree, watch some football."
Charlotte Douglas International Airport, the sixth busiest airport in the country, said American Airlines would reduce its operations starting Saturday evening and scattered cancellations are expected through Monday morning.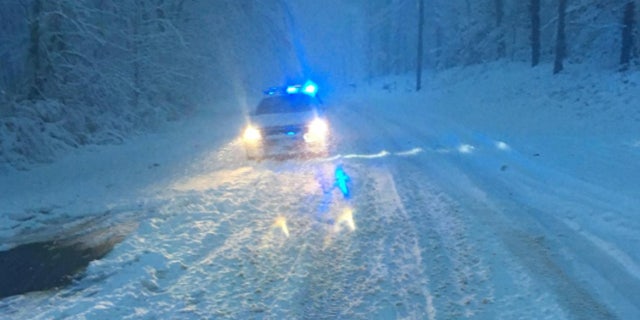 Over 1,100 flights were canceled as of Sunday, according to flight-tracking website FlightAware.
"Travelers are encouraged to frequently check with their air carrier for any cancellations or delays before coming to the airport," the airport said.
Officials have warned residents to prepare emergency kits and staff off roads in impacted areas.
Take a look at #Highway98. As you can see plows have been though here but it's still #snowing. Roads are slick and driving is not something you want to attempt this morning. Keep roads clear for plows and emergency vehicles. #NCWx #WinterWeather #DurhamWeather pic.twitter.com/gSCFGDwR09

— Durham Sheriff (@DurhamSheriff) December 9, 2018
"Roads are slick and driving is not something you want to attempt this morning," the Durham County Sheriff's Office said. "Keep roads clear for plows and emergency vehicles."
More than 82,000 were without power in South Carolina, while a total of about 75,000 outages were reported across Tennessee, Alabama, and Mississippi.